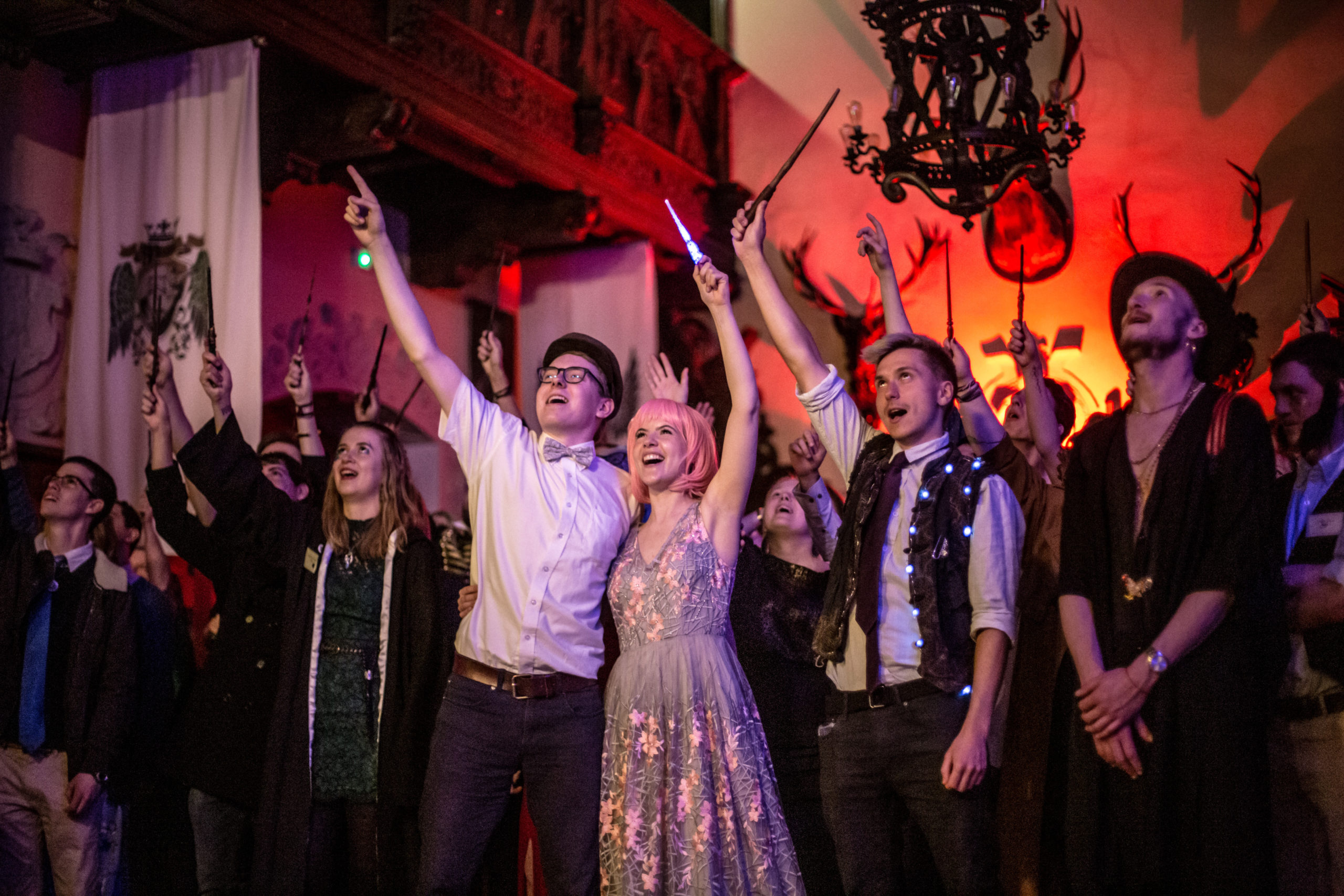 Growing the Witchards Universe
Community Events
For almost ten years College of Wizardry, Bothwell School of Witchcraft and now Thalenberg: Institut der Verlorenen have made up the backbone of our magical universe.
But there are so many more stories to tell …
The desire to create spinoffs has been a big part of our community for a long time, and now we've formalised a way for us all to grow this universe together and make sure it sticks around for another magical decade.
So what is the big deal?
We're trying to build an ecosystem around our universe where we collectively grow the universe, the lore and shared experiences.
If you're a seasoned larp organiser you might not want or need any help at all. And if you're just starting out we have a very talented team of people who are more than happy to help you refine your idea.
It is the vision of the board that we want to create a universe where players can easily take their characters from event to event (as appropriate) without having to retcon their experiences from previous games.
That vision also means that we can't just make a free for all. We want us all to grow this universe together, and that means we have to be a little bit diligent in what goes into the lore moving forward.
It also means that any game set in the Witchards Universe will have to be co-produced by us. There is just no way round that. So let's sweeten the pot a bit.
What's in it for me?
Turns out … quite a bit if you think about it.
What is the process?
There are a couple of steps, but we have tried our best to make sure that they easy to go through.
And to be clear … all of our events, including the big flagship ones, go through the same process.
1. Send us the story pitch
Write up your story synopsis, no more than a page, and send it to us at [email protected].
This will be used by the Lore team to make sure that your game will fit in with established and played lore. They will also work with you to fix any rough edges.
Once your story pitch is approved you go on to step 2.
2. Send us the budget
We'll help you create a budget that will carry the expenses, and ensure that all expenses are accounted for.
If the budget checks out, we'll underwrite and co-produce the event … essentially taking the economic risk.
If your budget gets approved, you move on to step 3.
3. Write the larp
Start building the game you want to make. Come up with a marketing plan.
Once you're ready we move to step 4.
4. Announcement and ticket sales
We will help you announce your game to the community, we will market your game on our website, and we will set up ticket sales and manage that for you.
Requirements
All of the above does come with a few requirements.
These requirements exist to try and make Witchards Society and the game universe as sustainable as possible.
Society Contribution
We take a Society Contribution of 12.5% of ticket sales, after transaction costs have been accounted for.
This helps cover the operational costs of Witchards Society, it grows our prop and crew funds, and it will help us ensure that Witchards Society will be around for years to come.
This is common for all events … including flagship events. No one is exempt from this.
Community Content License
All content created for your events must be provided to Witchards Society under the Community Content License.
This is to ensure that we don't have to retcon the universe three years from now because someone is withdrawing content.
And finally a plea …
For a really long time now a large group of people have dedicated large portions of their lives and free time to rebuilding this universe. And we have worked incredibly hard to create an environment that is conducive to our community's growth, but also sustainable.
However, that sustainability only works if we lift together as a collective. If we contribute where we can.
So even if you disagree with how we've chosen to do things – and that is a completely valid position to take – please be considerate of the hard work and the time people have committed to this project.